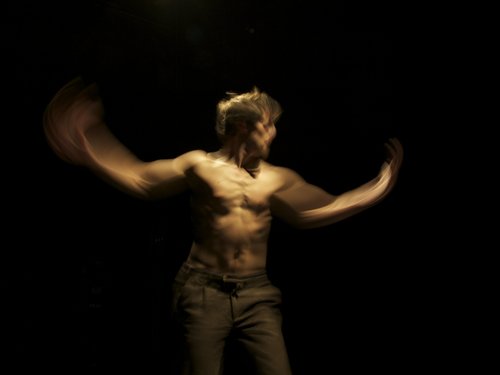 Gyula Cserepes –The Bridge
"Rhythm is the first information we receive. It is the bridge that guides us from the world before birth into this world when we are born. When you are in your mother's womb, you hear the heartbeat and the flow of blood; you feel the mother's movement and you hear the rhythm of her speech.
All of that is rhythm. You are not understanding what is happening, but you are feeling rhythm. As you grow, there are millions of brain cells that have to fire in a rhythmic synchronization in order for you to understand what is happening around you. Without the senso-motoric system, you could not move or think or make any sense of the world. That you can see or hear something is all based on rhythm." /Reinhard Flatischler/
I believe that dance can alter one's perception of being an individual into perceiving, that as an individual he is part of a community. The bridge is an accessible, open situation where rhythm - this universal language - is the base for communication. Breaking the so-called "fourth wall" between audience and performer I offer a unique experience to the spectator: the sensation of the power of dancing.
Author & performer: Gyula Cserepes Special thanks to: OFF Foundation, Budapest HU; En-Knap Productions, Ljubljana SLO; Voklsroom, Brussels BE


Bio:
Gyula Cserepes Dancer, performer and choreographer of Hungarian origins born in Bečej (former Yugoslavia). He studied at the "High-school of Folk Arts" and the "Budapest Contemporary Dance Academy", in Budapest. Gyula is the former member of the companies: "Central-Europe Dance Theater" (HU) and "En-Knap Group" (SLO). Among other pedagogues, directors and choreographers, he has worked with David Zambrano, Anton Lachky, Milan Tomašik, Simone Sandroni, etc. As an author, his work includes the interdisciplinary, site-specific performance "Revive the Castle", and the dance-theater show "New Age Gypsies".